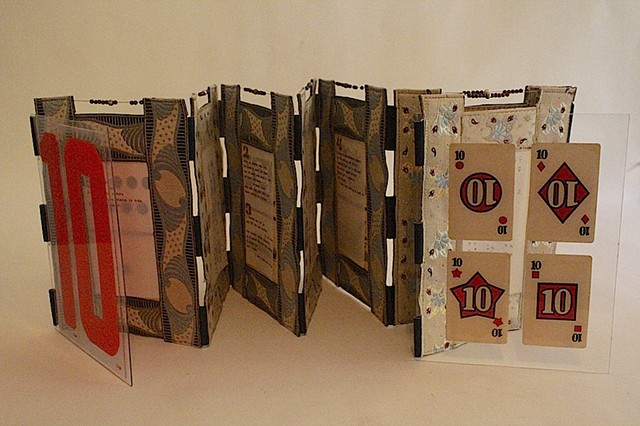 *Ten*
Vintage flash cards, fabric trim and gold leaf, poetry by C. Feeney, tally marks by V. Gangi (my dad) on Albanene vellum, and beads.
10 x 7 x 1" closed (accordion book)
2015
This artwork includes collaboration with my former art student Colleen Feeney.
The idea for the book started when I found the math flash cards in a local vintage shop and I grabbed up all the ones that added up to 'ten'. On a return visit I discovered the old plastic numbers and playing cards. As I assembled the parts, I continued to think about counting, time passing and medieval illuminated books. Ten is layered with Ms. Feeney's poetry and my Dad's tally marks (he once kept track of his days in the hospital on the back of an envelope) printed on Dad's tracing vellum (10 squares to the inch). I also gilded the numbers that mark the poetry stanza's using my grandfather's gold leaf (c. 1930).